Getting married?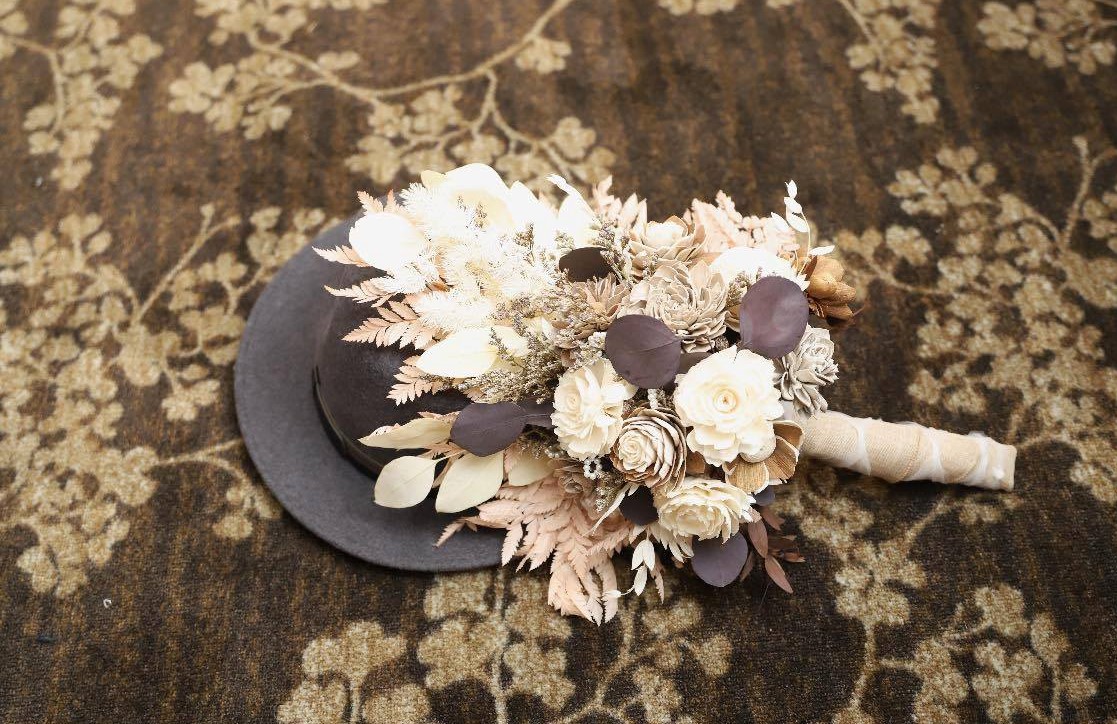 First and foremost, let us congratulate you and your significant other!
♡
Your wedding day is one of the most special days in your life and we would be so honored to help make your dream wedding come true! We have so much passion for what we do and we genuinely aim to please.
We specialize in creating 100% customizable, forever-lasting wooden floral...
Bouquets
Corsages
Boutonnieres
Hair pieces
Center pieces
Accent decorations
Just about anything that you can think of, we can create!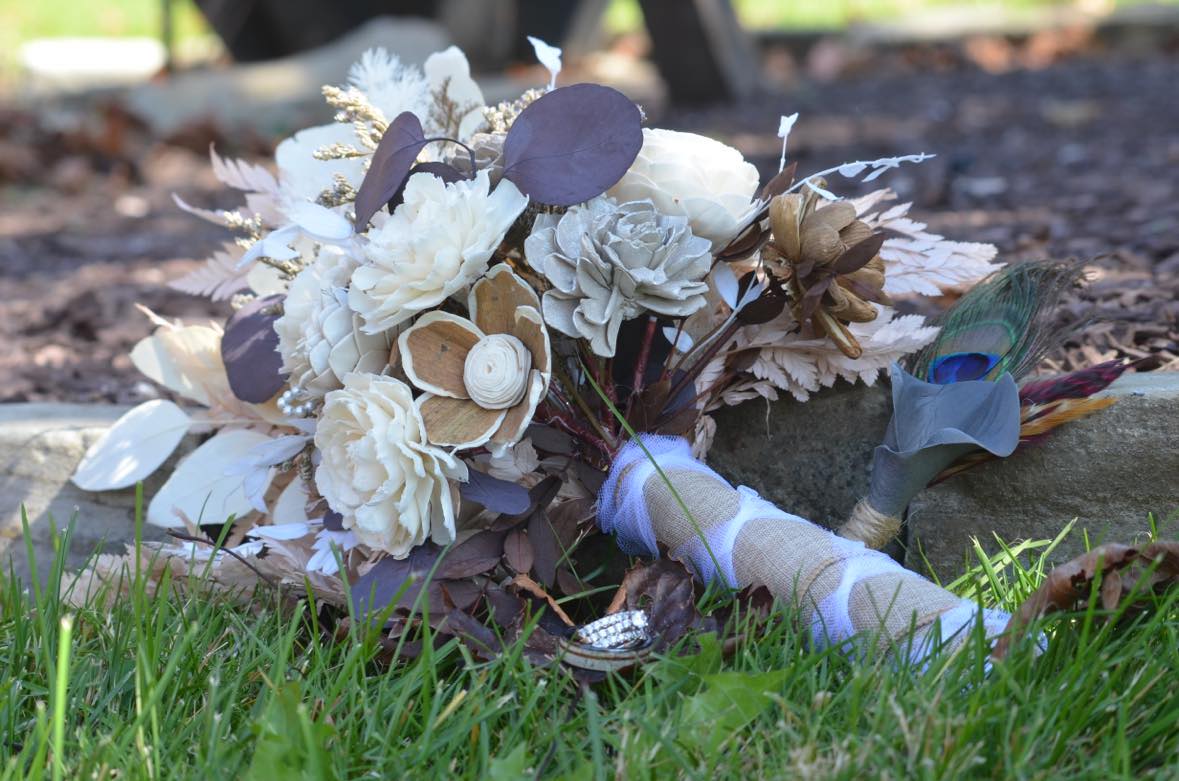 10 REASONS WHY YOU SHOULD CONSIDER WOODEN FLOWERS OVER TRADITIONAL, FRESH FLOWERS
1.
Worry free wilting:
Using wooden flowers means no wilting! Often times, brides love having their cake accented with an array of flowers, however, they often wilt as the night goes on.
2.
Environmentally Friendly:
Sola flowers are
made from the wooden root of a sustainable plant
, so you don't have to worry about contributing to any extra waste or other unsustainable practices when it comes to your wedding floral decor


3. Allergy Friendly:
You and all of your guests can enjoy the beautiful ambiance without worry of watery eyes (smeared makeup, NO THANKS), sneezing in the middle of memorable moments, or being unable to comfortably appreciate all your hardwork that you put into curating the perfect setting.
4. Budget friendly:
When it comes to weddings, having the ability to save money in any aspect is valued! Why spend all the extra money on flowers that will die within days or even hours? Good news for you! Wooden flowers are less expensive then fresh flowers! That doesn't mean they look/feel cheaper either! Win win!
5. Stress less:
We want your wedding day to be as stress-free as possible! With that being said, we have the ability to deliver your flowers far in advanced OR the day of! It's totally up to you.
6. 100% Customizable:
Let your creative bubbles flow when it comes to your wedding flowers. We can create any color/any shade PERFECTLY (literally.) We will create whatever style you prefer (elegant, bohemian, whimsical, flashy, simplistic, etc.)
7. They match every style, no matter the season:
Wooden flowers are delicately formed to imitate many popular flowers. We offer a huge assortment of botanicals. So no matter what the season, we can make your vision come true!
8. Easy to care for:
Lacking a "green thumb?" It's all good! It's basically 100% effortless to care for your wooden flowers. We supply you with extra tips to keep each and every flower lovely forever.
9. Fake doesn't mean low-end:
Let's get the elephant out of the room... Many fake flowers look and feel like they came from the bottom shelf. Our wooden flowers feel are far from chintzy. They look/feel soft and authentic vs other fake flower options.
10. Kickass Keepsakes:
*Drum roll please...* Our final reason you should consider wooden over fresh is our favorite reason! They can be used to make unforgettable keepsakes! Repurpose them and create whatever you can imagine with your wooden blooms. Toss them in a cute vase/mason jar after your wedding to create a memorable display of your big day! Or make a special shadowbox to encompass your wedding memorobilia.. Turn them into magnets or ornaments.. Heck! Your flowergirl could even reuse hers in her own wedding one day! The ideas are pretty endless!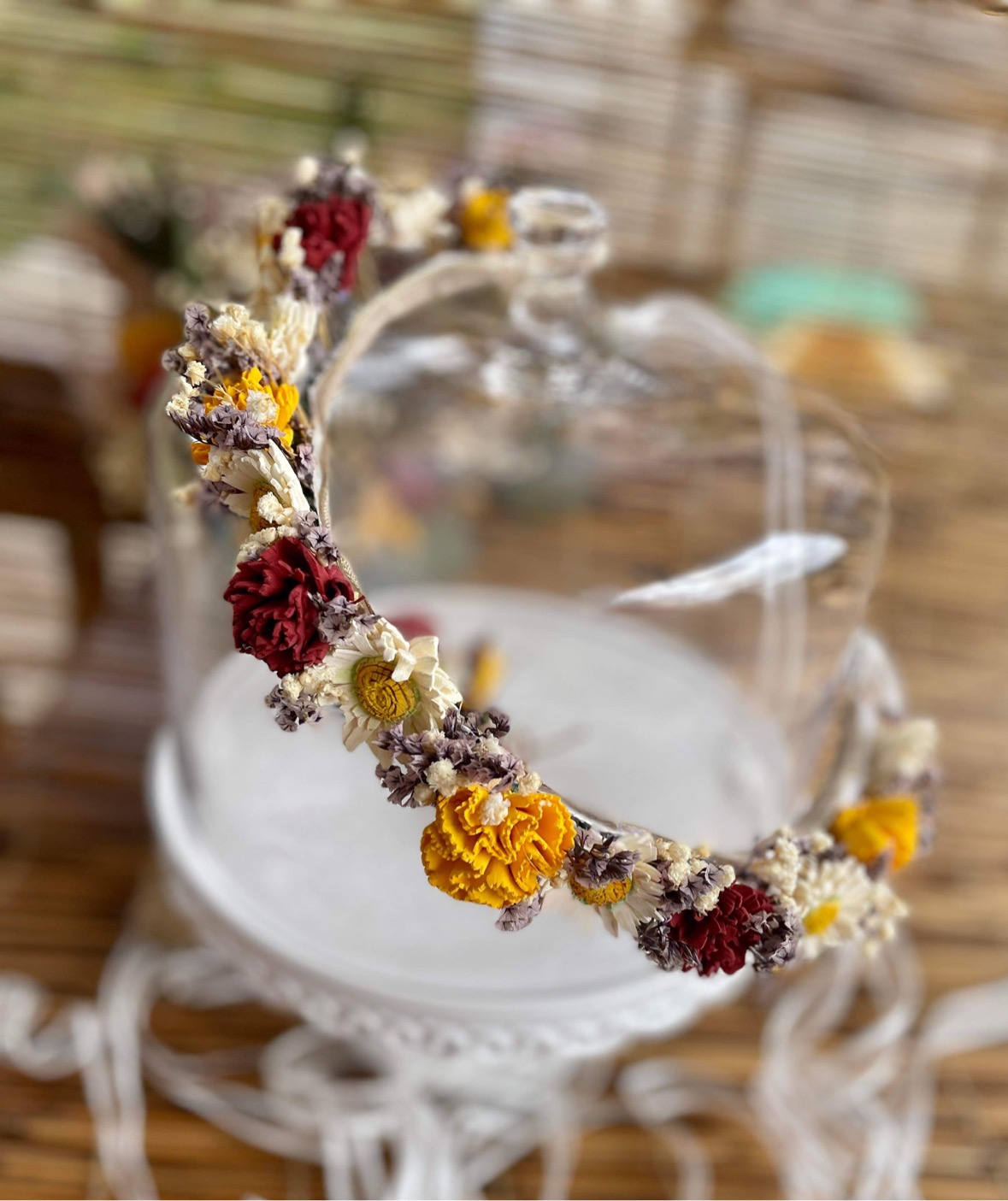 PRICING
NOTE: Due to the nature of customization, prices are approximate.
A consultation is absolutely necessary!

BRIDE:
ROUND/REGULAR BOUQUET $200.00 and up
CASCADE BOUQUET $220.00 and up
TOSS BOUQUET $50.00 and up


GROOM/GROOMSMEN:

BOUTONNI
E
RE $20.00 and up



MOTHER OF BRIDE/MOTHER OF GROOM:
WRIST OR PINNED CORSAGES $25.00 and up


BRIDESMAIDS:
ROUND/REGULAR BOUQUET $100.00 and up
CASCADE BOUQUET $120.00 and up
HOOP FLOWER RING $100.00 and up


FLOWERGIRL:
ROUND/REGULAR BOUQUET $50.00 and up
CASCADE BOUQUET $80.00 and up
HOOP FLOWER RING $60.00 and up
WAND $60.00 and up
KISSING BALL $60.00 and up


BRIDE AND BRIDAL PARTY ACCESSORIES:

4" HAIR COMBS $25.00 and up

BRIDE FLORAL CROWN/HALO $65.00 and up

BRIDESMAID FLORAL
CROWN/HALO $55.00 and up

FLOWERGIRL FLORAL CROWN/HALO $50.00 and up
FURBABY:

COLLAR $45.00 and up

CENTERPIECES:

(VARIES BASED ON BRIDE'S WANTS)

ex: MASON JARS $25.00/JAR


ARCHWAY:

$300.00 (MORE OR LESS DEPENDING ON HOW LARGE/SETUP NEEDED/ETC.)
*Ask us about our archway rentals!*
CAKE FLOWERS:

CAKE CLUSTERS $20.00/SET OF 3
*Each cluster typically includes 2-3 flowers with filler

15 LOOSE FLOWERS $30.00

30 LOOSE FLOWERS: $55.00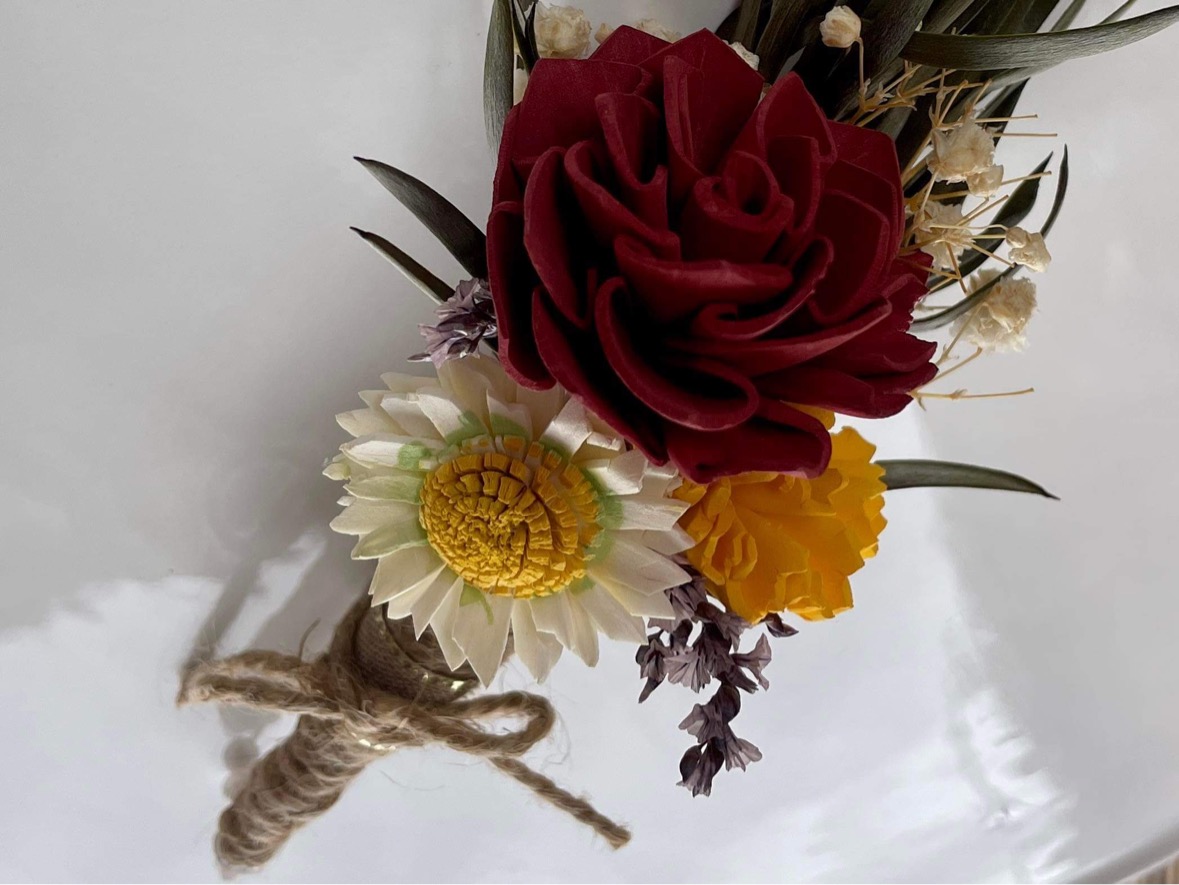 So what are you waiting for?
Jump aboard the wooden flower trend and contact us today to setup your consultation!

We are located at:
3305 MacIntyre Dr.
Murrysville, PA 15668

Depending on what you would like us to create, we do in-person consultations, as well as FaceTime! When scheduling a consultation, please mention what type of consultation you would like.

We ask all brides to please bring/send color swatches! They can be fabric swatches or paint cards from your local warehouse store.

We look forward to working with you!