Customer Reviews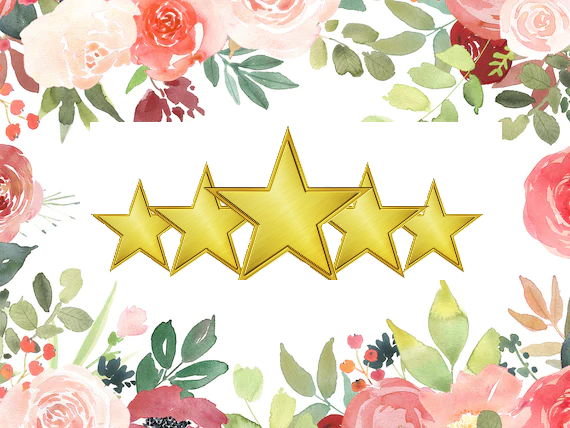 WE STRIVE TO MAINTAIN OUR FIVE STAR RATING
Here are some of our most recent reviews!
"I had no idea what I wanted as far as my wedding flowers went. I was so stressed about every fine detail. These creative women surpassed every expectation I had! Not only were all of our flowers absolutely stunning, but my bridal party was so excited to get to keep their bouquets as gifts!"
-Tara L.

"I cannot express how much I love this piece that was made to order. Simply exquisite!!!"
-Darcy C.

"Thank you for the beautiful creation and quick shipping! This was a lovely bereavement gift."
-Charity M.

"My mother in law just lost her mother and I wanted to send her something special. I didn't want to send her flowers that would die in a week or food that would quickly be consumed and I immediately thought of MiChi Craftiques and the beautiful faux flower keepsakes they have created. I sent the girls a message and asked them if they would be able to create a small flower arrangement for me to give to my mother in law that she would be able to treasure forever. Traci and Emily responded immediately with design suggestions and we decided on a unique and special cross board design. This board was custom designed exactly the way I wanted it. Grandmas favorite color was green and the girls made the most perfect arrangement using greens and a small hint of purple (which I told them was her second favorite). I also asked if they would include 2 small butterflies somewhere on the board to represent my mother in laws mother as well as her granddaughter who passed away at just 4 years old. She has always been our Braelyn butterfly. Every piece of what we discuss was captured in the final design and this board was completed and HAND DELIVERED with a card personalized with my own words in less than a week. I highly recommend these amazing women for anything you need. Thank you!!!!"
-Jennifer P.

"My wedding flowers were MAGNIFICENT! Our guests could not believe they were wooden! Still in awe over how gorgeous they are. I love having such a beautiful reminder of our special day. We have even set my flower girl's bouquet aside in hopes that she will one day incorporate them into her own wedding one day!"
-Samantha P.

"Just such lovely creations. It made a perfect birthday gift for an out of state friend."
-Charity M.

"If I could give more than five stars, I would! From the consultation to my special day, Traci and Emily went above and beyond. Not only were my floral arrangements exactly what I wanted, but they are so flexible! As a nervous bride, I decided last minute that I wanted to pick up my flowers 2 weeks before I originally planned. The next day, they had everything put together and ready to go! Thank you for making my wedding so much more relaxing and enjoyable. Not to mention, the price is WELL worth it!!!!"
-Cassidy W.

"I had multiple bouquets, corsages, and hair pieces created for my wedding. MiChi Crafitques hit the nail on the head with everything I asked for! If you are on the fence about a florist, you have finally found the best one. Go with Traci and Emily, you won't regret it!!!"
-Amanda W.

"Pure talent in everything they do. I've purchased multiple stunning pieces through Michi and I don't plan on stopping anytime soon."
-Sally M.

"Simply amazing keepsakes!!!! My daughter and her bridal party still talk about the wooden flowers we recieved from MiChi Craftiques. Thank you both so much!"
-Theresa L.


We truly try our best to give our clients and customers the best experience. Every single creation is made with so much passion
Thank you all for the support and love!